You can sign up at any time by reaching out to w4w@wealthsimple.com. Once we've received your opt-in confirmation, we'll make a change on our side to enable the option for your employees. This will show up as an option on their desktop platform when they navigate to their portfolio theme and click Change portfolio theme.
We'll also provide you with an email to announce this new option to your workforce and provide the instructions employees need to get started.
How employees sign up for the new Crypto Investing portfolio
Once the crypto option has been enabled by the employer, an opt-in button will become visible on Wealthsimple's desktop platform that will allow them to opt-in to the portfolio type. This will be visible on their GRSP account page by clicking Change portfolio theme (see below for an example).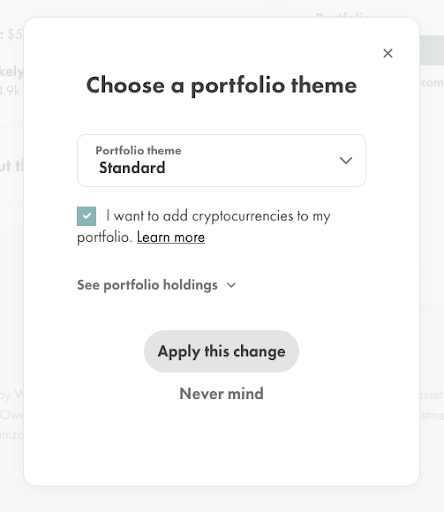 The request will be processed in about 1–5 business days. Employees can opt-out at any time.